Media Temple is a popular destination for web hosting services. The company was founded in 1998 and has grown steadily since then. In this Media Temple hosting review, we will take a look at the hosting services offered by the company.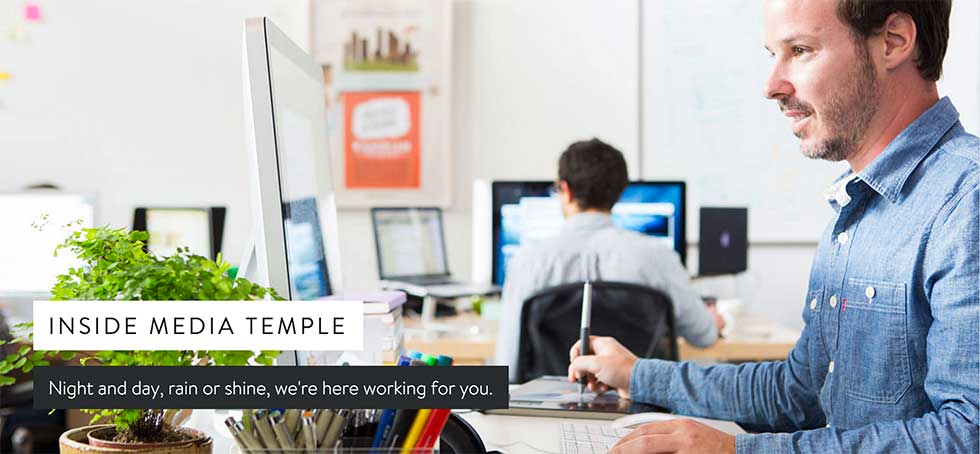 About Media Temple
Media Temple was founded in 1998 by Demian Sellfors and John Carey. The company focused on designers, developers, and creative types and their growing need for affordable hosting service.
In 2006, Media Temple introduced Grid, a cloud service that manages user websites across clusters of servers. This offered users a flexible and affordable option to create websites that can scale with growing traffic.
Media Temple was acquired by GoDaddy in 2013. The company maintained its brand name in acquisition and still operates as an independant company.
Hosting Plans
Media Temple offers different hosting plans for customers of different needs. They offer shared, VPS, cloud, and dedicated hosting plans.
The company's flagship hosting plan is their grid based shared hosting service. Starting from $30/month their hosting plan is a bit expensive than other shared hosting service providers. However, the major difference is in technology and flexibility of their Grid hosting system.
Media Temple also offers managed WordPress hosting plan starting from $20 per month. It features access to developer tools for easy deployment of WordPress sites.
The company also offers plans for cloud hosting, managed cloud hosting on Amazon web services platform, and dedicated servers.
Pricing
Media Temple's hosting prices fall under medium to high range. The company claims that their superior technology, robust platform, and high level of support and services justifies their pricing plans.
Managed WordPress Hosting – Starting from $20/month.
Shared Hosting – Starting from $30/month
VPS Hosting – Self-managed VPS $30/month and Managed VPS $50/month.
Managed Cloud Hosting – Starting from $199/month.
Dedicated Hosting – Starting from $2000/month
Features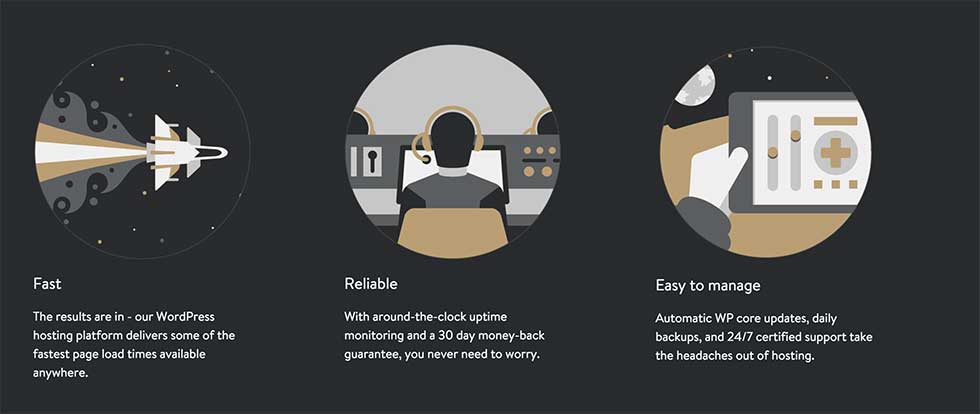 Media Temple offers a variety of hosting plans with different set of features and tools. We will take a look at the basic features offered with their WordPress and shared hosting plans.
SSD Storage
Storage starting from 20GB
Bandwidth starting from 1TB
Google Apps for Work Email Account
Global CDN
Malware detection and removal
24/7 Live chat support
30 day file backup and restore
Git, WP-CLI, SVN, SFTP, and SSH Access.
1-Click Installers
Custom Dashboard
This is a comprehensive set of features and looks pretty good. Let's see how easy it is to use these features.
Ease of Use
Many users do not know much about the technology used by their web hosting service provider. Users need easy to use tools they can rely upon to manage their websites.
A Custom Control Panel
All Media Temple hosting plans come with a custom made fully optimized control panel. The control panel is designed for ease of use and it is very uncomplicated and simple. Even beginner level users can easily manage their account using Media Temple's account center.
Quick Setup and Installers
From signing up to setting up a website, Media Temple makes the ride very smooth for the users. The experience is equally pleasurable for new users as well as users migrating from some other service provider. Media Temple's 1-click installers make it easier to launch a WordPress site with in minutes.
Support and Documentation
Even though the account center is quite easy to use, many beginners may still need some guidance. Luckily, help and support options are easily accessible from the account center. Media Temple offers 24/7 phone and live chat support as well as email, documentation, and community resources.
We feel confident to say that setting up and managing a website on Media Temple is extremely easy for users of all skill sets.
Customer Service
Customers need help and support and they want to be treated with respect and dignity. It becomes even more important for technology related companies, as users rely upon customer service for their businesses.
Their knowledge base is awesome most of the issues you can resolve on your own just stumble one to the knowledge base and most probably you would find a solution.
Media Temple offers a comprehensive set of tools for customers to reach out and get assistance at any time.
Live Chat Support
Phone Support
Email/Ticket support
Community resources
Documentation and Tutorials
There are enough tools for users to help themselves or reach out to the company for assistance.